Schnauzer FAQ
- and Schnoodles
Our Schnauzer FAQ section is a section devoted to YOUR questions about Schnauzers and Schnoodles. Want to know.......
Whether to get a white Miniature Schnauzer?
How big your Schnoodle or Schnauzer will grow?
If it's normal for your dog to follow your round the house?
How to stop your dog barking?
Why your dog can't stop scratching?
How long you can leave him or her alone for?
Why your Schnauzer or Schnoodle runs round in circles as fast as he can????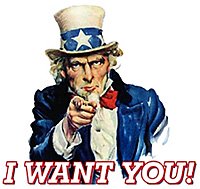 Ask any of these questions and a million and one others and we will attempt to get the answer in Schnauzer FAQ.
That doesn't mean that WE will be answering ALL of the questions! We know from our mail that so many of you out there are real dog lovers with loads of experience of owning a dog.
Max(like Uncle Sam) says: "I WANT YOU" to reply and to share your knowledge with us. Maybe you've had the same experience with your dog... Or maybe you have the answer our visitor is looking for.
Perhaps you don't think you are an expert? Well, we believe that EVERYBODY with a Schnauzer or a Schnoodle is an expert on their own dog!
We hope with your help to build our Schnauzer FAQ to become the Number 1 Question and Answer forum for Schnauzers and Schnoodles.
So what are you waiting for? Just fill in the form below and get asking - or answering!
Max has promised to spare some time in his busy day and drag himself up from his comfy cushion to answer some of the more difficult questions!
Just one point, to get published your question has to include some background details and be at least four lines long, preferrably longer if you can. Sorry, but we can't publish one-liners any more, as Google is penalising websites with one-line pages.
Thanks for your co-operation, we can't wait to hear from you. .......Linda and Max
Got a Schnauzer or Schnoodle FAQ?
Got a Schnauzer or Schnoodle question, comment or answer? Fire away....
What Other Visitors Have Said
Click below to see contributions from other visitors to this page...