Mini Schnauzer itching/scratching around & in his ears.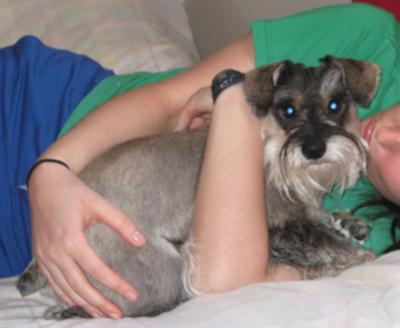 Barri & I
My old female mini Schnauzer (Gracy) had this problem where the inside of her ears would get irritated & itchy.
I'd see her scratching her ears very hard with her back paw, & she would be really trying to aim for the inside of her ear (hole of the ear canal). (This dog was not a mixed breed, but her ears were different than other Schnauzer type ears, they were not cropped or anything, but they stood up kinda like deer ears & they never flopped down).
I always assumed her scratching was because of inwards hair-growth, or ear wax build up (her ears never did appear to get red or swollen & they never bled). So we tried lightly pulling or stroking her ear hair outwards & cleaning out her ears gently (where we'd remove a fair amount of wax). If we would try scratching her ears, she would bend her head toward the ear we were scratching, to try to get us to scratch deeper into that ear.
Although we tried to deal with this problem throughout her adult life, it never really went away; & before she died at the age of 16 years old, she went completely deaf, sadly.


More than 5 years have passed, & we now have male puppy (almost 3 years old) that's a salt & sepper colored mini Schnauzer (Barri). This dog has large floppy ears. I have started to notice that he sometimes has a tendency to try to scratch his ears, although not as vigorously as my older dog. Everything is similar, except he doesn't really try much to get his nails inside his hear to scratch, & he also scratches himself around & above his ears.

I have been wondering what exactly is making him itchy, & what can I do to prevent these problems that my old dog experienced. I worry that down the road it might become more serious.
Does anyone know if there's anything I can get at the pet store, a special cream, ear-drops, or any tool that might help deal with this problem?
Or even a particular method of dog ear cleaning that might be beneficial?