I think i have a mini Schnauzer - is she one?
by natalie
(fort worth tx)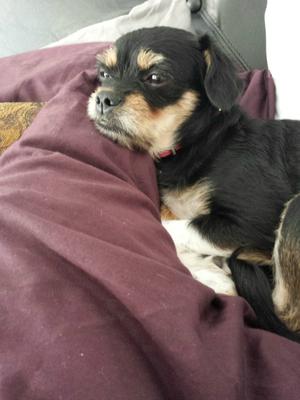 She meets the weight requirements also temperament.She is black with copper eyebrows and chin one white leg looks like a sock.white also on her other feet and chest. I found her so i have no idea . the vet said she is 2or3 years old so i am guessing the copper is here to stay.
i love her colors and everything else about her . just would be great to know.i attached some pick .i have been having her groomed pretty short for the warm weather as her hair is growing out i came to the conclusion i may have a mini schnauzer. thanks!

NOTE FROM LINDA AND MAX: She looks lovely, We're sure you'll love her whatever breed she is, but we're not sure she is a Mini Schnauzer - what do our readers think?