Ever Wondered What A Schnauzer Thinks?
"Great website - friendly, fun and packed full of schnauzer info," JT
Welcome & congratulations to you all, first for spelling schnauzer correctly & second for being interested in such an intelligent, loyal, affectionate and handsome dog!
If you're already an owner, you're thinking of getting one or you're just a good old dog lover, then you've arrived at the right place for professionally researched and written factual advice. We give free information about these wonderful pets and a place for you to share your pictures and stories with other schnauzer lovers.
We might also be able to help you if you are looking to rescue or find a home for a Schnauzer. Click here for more information.
CAN YOU HELP? A female Mini Schnauzer in Liverpool needs a new home, October 2017. Get details HERE
Too many websites provide inaccurate "information", often motivated by commercial interests. As a professional journalist and photographer, I've researched & written many of the articles and the rest have been provided by experts in their field. We tell it like it is - good and bad.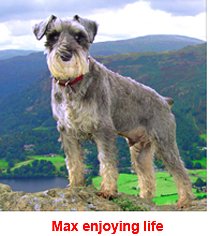 I became the proud owner of Max, a Miniature, over 7 years ago. (Or - as pointed out by a fellow fan - he became the proud owner of me!) He's brought so much joy to our lives that we wanted to share our love of this unique breed. Our site isn't just about Miniatures but also their big cousins the Giant and the Standard. It's the only international website for all three types.
We've got articles from Kevin and Sandie Cullen, owners of Philip the Giant, Supreme Champion of Crufts no less, as well as from rescue organizations, breed societies and other canine professionals. Our sincere thanks to all the experts who have contributed.

---
We want to hear from YOU and your dogs. This site is for Schnauzer and dog lovers like you and me. We've got some great pages where you can
send us your photographs
or
tell us your favourite story
and we will publish them on the website. If you've got a question, send it to us at
FAQs
and we'll do our best to help.
To keep up-to-date with the latest news and contributions, click on the orange RSS button on the left and we'll automatically send it to you.
You'll discover how to spot a good breeder, what to look for in a puppy, how to care for seniors (dogs, not relatives!), obedience training, how these dogs help pet allergy sufferers and a whole lot more.
If you're feeling really brainy, you can have a go at Max's fiendishly clever Dog Quiz, but I warn you - he's thrown in a couple of tough ones....!
If you're involved with a Schnauzer Club or Group anywhere in the world, send us a report of your activities and we'll include it in our News section.
---

P.S. Want to really know what these intelligent dogs are are really thinking? Check out Dog's Life, written by Max, and read all about his wild day out on the moors and other great adventures!
Here are some links to other pages you might be interested in........Happy Reading.....
The only manual for Miniature, Standard and Giant Schnauzer owners. Written by, with and for owners, this 251-page book with over 300 pictures answers your questions and is packed full of information and tips on how to look after your pet.
Miniature Schnauzer - the small dog with the big personality and universal appeal. Discover the real facts about this popular and hypoallergenic dog breed.
The Standard Schnauzer is the original of all three types of Schnauzer. Discover why it's known as the "dog with the human brain" and everything else about this dog breed
The Giant Schnauzer - the Mohammed Ali of the dog world. Are you ready for the challenge?
Schnauzer Rescue - We can help if you're looking to rescue or rehome a Schnauzer
Schnauzer Health - What's the Number One tip for having a healthy Schnauzer? Read this and the 10 signs of a healthy dog
The White Schnauzer is becoming increasingly popular, but still causes controversy. You either love 'em or hate 'em - find out why.
The Schnoodle - a Schnauzer Poodle cross. Are they really non shedding and hypoallergenic? Read the truth about the Schnoodle here.
Schnauzer FAQ. Got a burning question about Schnauzers or Schnoodles? Ask it here and find the answer.
Are non shedding and hypoallergenic dogs the miracle answer for pet allergy sufferers? Find out here.
Schnauzer Pictures - see our gallery of Giant, Standard and Miniature Schnauzer photos - and add yours too.
Your Schnauzer Stories. Read all about the antics of these wonderful dogs -or tell us about your Schnauzer
Schnauzer Training - read our Top Ten Tips before you begin training your Giant, Standard or Miniature Schnauzer
The Schnauzer Puppy - Top 12 Tips on How to Choose a Healthy Puppy
A dog's life according to Max the Schnauzer. Read about Max's real-life canine adventures, starting with his wild day out on the windswept Moors of Bronte Country in Yorkshire, England
Schnauzer breeders come in all shapes and sizes. How can you tell the good from the bad? Find out how you can pick the right breeder with well-bred, healthy puppies.
Rainbow Bridge - heartwarming stories of schnauzers and other dogs which have passed away
Ready to Face the Challenge of Max the Schnauzer's Dog Quiz Number 2? Test Your Canine Knowledge Here.......
Visit our Schnauzermania Store! Find a super schnauzer-related gift or pet product at the click of a button. Great discounts! Takes the legwork out of shopping for something special.
Want to know what's movin' and shakin' in the Schnauzer world? Pad along to our blog Schnauzer News to find out.....
Helps you find your way around the website without the aid of a compass....
Useful Dog Links
Schnauzers in Art - read Robert Coane's fascinating research into Schnauzers who have been immortalized in paintings
Max-the-schnauzer.com - our disclaimer.
Max-the-schnauzer.com - our privacy policy. your details are safe with us.
The Schnauzer Handbook is now on Amazon. Readers' choice. This five-star schnauzer book is the best and most informative on the market