Still missing Buddy...
by Kevin Panting
(Springfield Illinois, USA)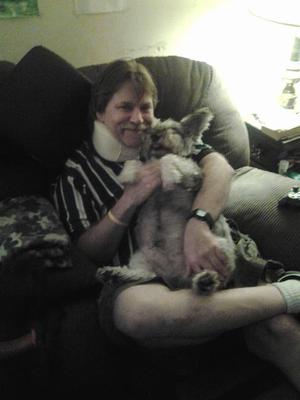 Me and my Buddy while I was recuperating
It has been 3 weeks since our Buddy left us, and I still feel empty. He was such a part of our daily routines. My more pressing issue now is Maddie. I don't know what the grieving habits of dogs are. Maddie seems to be taking it just as hard as we are. Her appetite seems to be better, but everything else is all out of kilter. She is acting very afraid of everything and everybody. She won't come to us when called. She won't go outside without being coaxed. She won't leave the porch, etc. It is almost as if she doesn't hear us. We have all been giving her all the love and attention that she always gets, and then some. We haven't moved or discarded Buddy's things (bed, toys, bowl mat and bowls, etc.). We are very concerned about this depression of hers. I just couldn't take it if something where to happen to her. Because we have all heard the "broken heart" stories. Anyone have any suggestions on how my grieving family can help our grieving Maddie?

What would the recommended time-frame be for getting her another brother? I say brother because we are pretty set on getting another male mini. Or should we get her a sister? Or should we breed her? So many questions I know.

I am so glad that I found this site. I have gotten excellent advice and opinions. Our Buddy looked a lot like Max, so I can see them both every time I visit.