Skittish Schnauzer shaking like a leaf
by Harry Smooth
(Mims, FL.)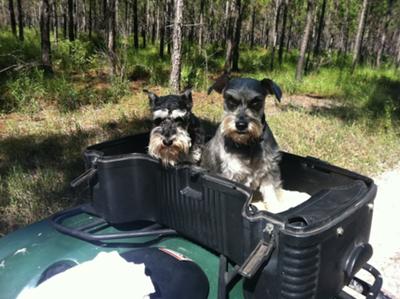 Schneider and Moses
My 2 yr old Schnauzer is DEATHLY afraid of Loud Noises...I am an Avid Hunter, and when we go to the Hunt Camp, we sometimes have "Target Practice" and my Schnauzer runs for the hills!
Usually hiding in the shower, and shaking like a LEAF for hours!
At home, if I drop a pan or a pot in the kitchen, same thing....shaking like a leaf for hours!
He is scared of almost ANYTHING, but LOVES people! HELP!!!!!