UK Schnauzer Rescue
Looking for a UK Schnauzer Rescue organisation?
There are a number of groups in the UK who help to rehome Miniature, Standard and Giant Schnauzers.
Before you go ahead and contact one of them, read
Schnauzer Rescue - the Facts to get an idea of what's involved.
It is a BIG commitment for all involved. But if you are able to offer a forever loving home - or if you have a Schnauzer which needs re-homing - read on. We might be able to help you.
---
First, here are a few of the points to consider:

*Schnauzer adoption is NOT a cheap way of getting a purebred or pedigree dog and shouldn't be viewed as such. Make sure you're aware of the full cost.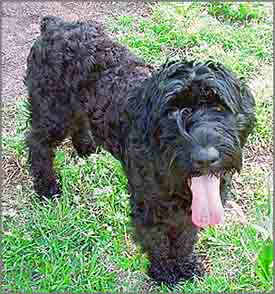 ---
*Schnauzer rescue dogs may not be suitable for families with young children. The dog may be jealous of the attention given to the children or may not like being handled or teased a lot - especially at first.
*Many rescue dogs have had difficult lives. You need plenty of TIME to help them to rehabilitate.
*Some rescue Schnauzers have initial problems with housebreaking. Others may need socialization training with people as well as other dogs.
*You may have to wait until a suitable dog comes up.
*It is not just the dogs that are screened! You'll probably have to undergo a screening by your chosen Schnauzer rescue organisation to make sure you can provide a suitable home. You might have to provide references too.
Good luck.

---
Below is the list of contacts and websites of organisations and individuals involved in UK Schnauzer rescue. Just click on the links or call the person listed for more information:

The Schnauzer Club of Great Britain - Schnauzer Rescue
Miniature Schnauzer Club Re-Home and Rescue Trust
Caroline Wareing 01242 696 768
Miniature Schnauzer Rescue
Mr & Mrs A Leadbetter, Dyfed, Wales. Tel: 01646 692943
Northern Schnauzer Club Rescue
Co-ordinator, Pam Ciceri Tel: 01751 475605
Giant Schnauzer Club
Mr K Carroll 01524 411220

Looking to Rescue or Re-Home a Schnauzer?
Sometimes people contact us who either have a Schnauzer to re-home or when they want to rescue a Schnauzer. We recommend you first contact the rescue organisations listed.
But if you still have no luck, then post a request here. Please include the date and your name (first names are fine) and your town or county.
Then write some details and include an email address where you can be contacted. Don't post too many specific details, such as your address, on the internet.
If you want to be kept in touch with news of people looking to re-home or rescue Schnauzers, click on the orange RSS button at the top left of our website and subscribe to our RSS feed.
What Other Visitors Have Said
Click below to see contributions from other visitors to this page...