Home wanted for gorgeous mini schnauzer in SUSSEX
by Jessica
(Hove)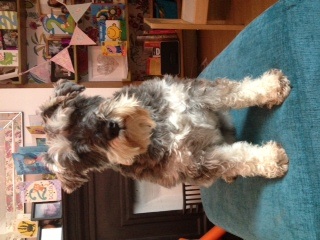 March 11th 2013
I'm writing this with a tear in my eye but we are looking for a new home for our wonderful five year old female mini schnauzer. We have had two babies in two years and are just not able to provide our lovely dog with the attention and walks she needs. We would love to keep her but just don't feel it is fair on her and are trying to think of what she needs.

We have had her since birth and she has been neutered, all her vaccinations are up to date.

We live in Hove, East Sussex. She is great with people but doesn't like cats unfortunately. She also likes to bark if someone comes to the door but other than that she really is a fantastic dog.
My email is jessiepeters@hotmail.co.u
Thanks for reading, only wish I wasn't writing this.
Jess

BOTE FROM LINDA AND MAX:
DEAR JESS,
What a heart-wrenching and brave decision. But you are doing the kindest thing if you can find a loving home where someone has time to give your lovely mini the time she needs.
You must really have your hands full with two young babies.
We will pass your details on to some people and wish you all the very best for you and your family in the future.
If you do re-home her, please let us know.