Elkie needs a new home
by Diane
(Manchester, UK)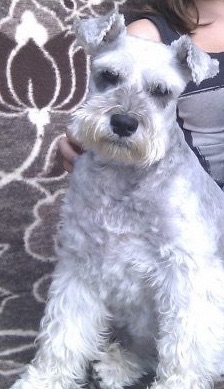 20th Oct 2014
Desperately sad to be asking to rehome our miniature schnauzer Elkie. Unfortunately I am moving abroad to live with my husband after 3 years living apart due to his work being overseas. Our son has now left home to go to University and I can finally join my husband. His work assignments are unpredictable which is why we cannot take Elkie with us.

Elkie is 8 yrs old and is spayed and has all vaccines upto date. She is sprightly and healthy, loves everyone and is harmless but likes to bark...but only on walks....she is an angel at home :)

We would consider someone who is prepared to just foster until November 2015 if need be, although if you fall in love with Elkie and vice versa and we see that she is settled, we would absolutely and most definitely allow her to be permanently rehomed. If fostering were an option, we would cover all food and any vet expenses.

Heartbroken to have to do this...hope there's someone out there for our bundle of joy.