Pepper's Mum offers home to old mini, Tyne and Wear
by Julie
(Tyne and wear)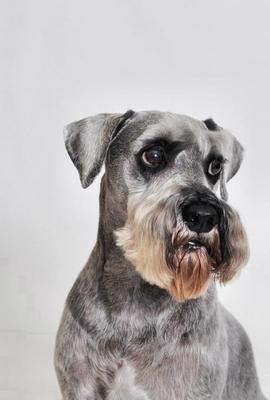 My love
26/10/13
I would love to adopt an old mini schnauzer , my fur baby died in June I only had a week's notice he had cancer and I said no more dogs as it was a terrible shock , I can't live without a schnauzer in my life and I'm sure my Pepper would love me to save the life of an old boy. I can't take on a pup as I feel that is disrespecful to the love of my life.
I offer a home to a dog who will be my full-time companion who will see my grandchildren on a weekend as they visit me with their mini, Bella. He will enjoy a good quiet life and I know vets' bills could be high but I feel I need to do this in memory of my boy, the love of my life for the last eleven years.
Please see what you can do for me
Many thanks
Julie

NOTE FROM LINDA AND MAX:
Hi Julie,
Your Pepper certainly was a beauty and we send our deepest sympathy. You can take heart from the fact that it sounds like he had the perfect Schnauzer's life.
We don't have any to re-home ourselves, but somebody who is looking to re-home an old mini may contact you
Good luck and best wishes.