Rudi, black & silver Mini born Christmas Day for sale to loving home, Bracknell, Berks
by Linda (owner of Max the Schnauzer website)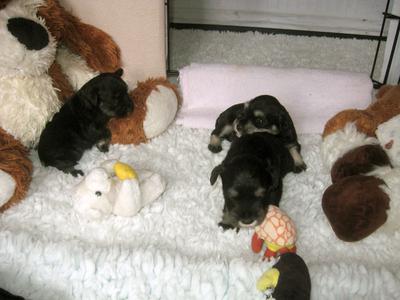 We do not normally advertise puppies on our website, but in this case we are making an exception.
There are genuine reasons why this pup is being advertised for sale here and if you call the number, Lesley will explain.
Rudi is the last of the three littermates looking for a home. Lesley, a Miniature Schnauzer show judge stepped in to save the mum and pups.
Here is the advert:

To our surprise Santa had delivered Black and Silver Miniature Schnauzer pups to us Christmas Day morning, 1 girl and 2 boys.
The pups are home reared being use to the normal domestic household noises and are use to 3 other adult Miniature Schnauzers. They will start their toilet training from 6 weeks old and gentle weekly grooming. Also at 8 weeks old will be getting used to travelling in a car a couple of times a week for a distance of a mile. From 5 weeks old pups can be visited weekly to see their stages of development. They will be ready to become a member of their loving forever new homes from Monday 6th March 2023 with:-

- Worm treatment at 2wks, 5wks and 8wks
- 1st and 2nd stage Lepto 2 vaccination (fully vaccinated) and record card
- Microchipped
- Copy of mum's current BVA eye test certificate
- Copy of puppies BVA eye test certificate
- Vet checked at 5 days old and at time of 1st and 2nd vaccinations
- Flea and tick treated ready for their new homes
- Pet Plan 4 weeks free insurance
- Bag of puppy kibble food
- A piece of vet bedding with scent of mum and siblings
- Tips on Caring for your New Puppy information
- Continual support any time if you feel you have a problem, large or small

Price = £1,100
Interested to see mum and pups together to possibly give a loving forever home to one of these Christmas Beauties, then contact Lesley on 01344 869 229 (Bracknell).