Looking for a friend for Harry
by Martin
(Barkingside, Essex, United Kingdom)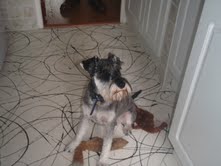 Just Harry
30/06/14Currently Barkingside, Essex hopefully soon to be moving to Romford, Essex.
Hi,
We currently have a 4 year old salt & pepper miniature. This is our second rescue. Our last one (Benji who was a standard rescue) passed away three and a half years ago. We both adore the breed and as I (Martin) am semi retiring within the next two months we have decided that the time is right to get Harry a friend. Company for him as well as us.

I am semi retiring appx August 2014 and from then on will be spending most of my time at home so we can devote time to them.

We are preferably looking for male or female miniature up to 3 years old but not a puupy just leaving mum.

Thank you for your time and look forward to hearing from you when on of this adorable breed sadly becomes available.

Attached are a few photos of Harry
Martin & Sharon Frankfurt
sharmarty@gmail.com

NOTE FROM LINDA AND MAX: Good luck in your search - and Max sends his best wishes to Harry- who looks like he has the life of Riley!