Giant Schnauzer Champion
Jafrak Philippe Olivier
Hurrah! We have a Giant Schnauzer Champion at Crufts - the largest dog show on the planet.
The 2008 show moved out of London for the first time to a bigger venue at the National Exhibition Centre in Birmingham, England.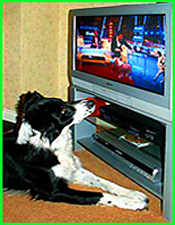 The extra space was needed, as there were a staggering 23,000 dogs taking part!
There were 1,165 dogs who came from outside the UK and a whopping 160,000 dog-loving visitors. What a fantastic place it was (although not if you had pet allegies!)
Millions more around the world watched the event on TV. But it wasn't just humans who were hooked - walkies around the world were cancelled while members of the Canine World became couch potatoes for the 4 days....!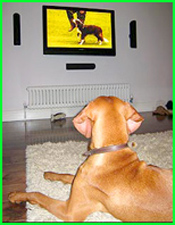 Giant Schnauzer, Jafrak Philippe Olivier beat stiff competition from the other 22,999 in 7 different pedigree dog groups to take the coveted title of Crufts' Best in Show 2008.
Known as Philip to his friends and family, he was competing for Best in Show for the third time.
---
Philip won the Working Group, which is the class in which Giant and Standard Schnauzers compete. The other UK dog groups are:
Terrier Group
Hound Group
Gundog Group
Pastoral Group
Toy Group
Utility Group
(The Miniature Schnauzer is in this class in the UK, but in the Terrier Group in the US).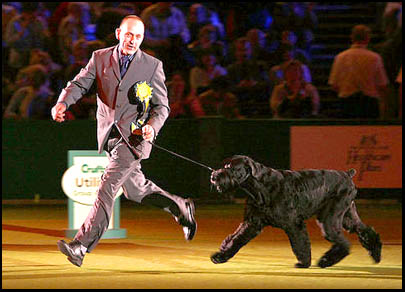 Giant Schnauzer Champion Philip with owner Kevin in the ring at Crufts.
Six-year-old Philip is owned by Kevin and Sandie Cullen from St Leonards-on-Sea in East Sussex in the South of England
In Reserve (second place) was the winner of the Pastoral Group, Samoyed, Ch Vandreem Imperial Hermioni By Berezniki JW ShCM, owned by Mrs L Bobrowski from Chobham in Surrey.
The Giant Schnauzer was selected to be Crufts Best in Show by judge Clare Coxall. She said: "[Philip] came out of that arch there and he came in... as though he owned it."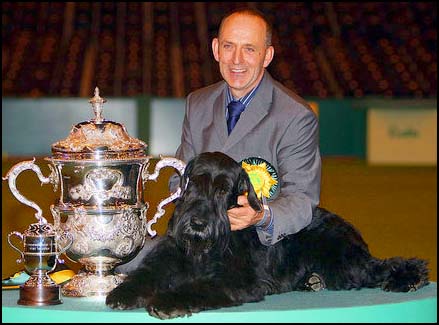 Clare knew Philip was a winner when she laid her hands on him: "He's got muscles on top of muscles. He's in ace order. Fantastic top athletical condition. And he has a pair of the jettest black eyes. He sold himself to me and he knew he was doing it."
Kevin was overjoyed to win: "I can't believe it. What a fantastic feeling. To be here for the third time and to actually get it - a dream."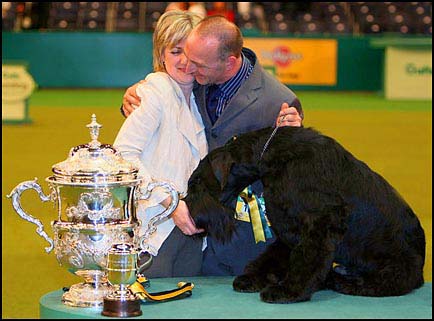 "Philip is a real happy go lucky dog - he's a wonderful pet and a brilliant show dog" said Kevin.
Philip receives a £100 prize, a replica trophy and a prestigious place in dog show history.



Kevin and Sandie Cullen are a husband and wife team, who have been involved with dogs most of their lives.
They are also involved with Miniature Schnauzers.Their got their first Mini in 2000 and have been successfully breeding and showing them ever since.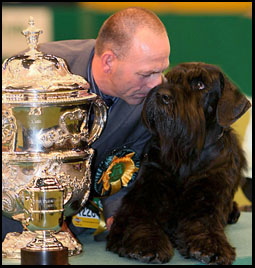 They started showing Giant Schnauzers in 1995 and have made up six Champions, with Philip being the most famous, of course.
Kevin and Sandie's Giants are bred in partnership with Robert Joy of the Bellgard Kennel.
His lovely Bellgard girls have become the foundation for the Philoma Giants.

---
Follow these links to find out more:
Kevin and Sandie Cullen's dream come true


The Cullens and their Giants and Miniatures

Return from Giant Schnauzer Champion to the Home Page