A Dream Come True
Kevin and Sandie Cullen of Sussex, England, tell Max how they first became involved with Giant Schnauzers:


"Hello, we are Kevin and Sandie Cullen who own Crufts 2008 Best in Show Champion Jafrak Philippe Olivier - better known as Philip.
Our introduction to Giants was through Floyd, a dog we bought when we were first married 25 years ago. He was a Giant Schnauzer-German Shepherd cross.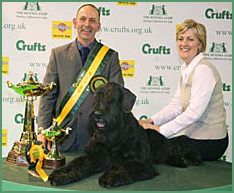 Floyd was the most fantastic dog - so intelligent -and actually looked more like a Giant than a German Shepherd. We liked him so much that we said we would have the real thing next time - a pedigree Giant.

---
We bought Jake our first purebred Giant Schnauzer when he was six months old. At that time we only wanted a pet - we were not thinking about showing.
We did, however, think we should take Jake to obedience classes because he was a real live wire.
When we arrived at the class we knew we had gone to the wrong place! It was in fact a class for Show Dogs and people were standing and moving their dogs around like they would at a proper dog show.
But when we were there, people began saying to us that we should show Jake. They thought he was beautiful.
So, we took their advice..... We went to a couple of shows, we were hooked and the rest - as they say - is history!
Giant Schnauzers are addictive. You start with one and end up with two or more - like us.



Philip the Supreme Champion of Crufts enjoying a swim
It's true, though, that Giant Schnauzers are not for everyone. They want your time and attention and loads and loads of exercise.
They know every move you make and everything you say. They are creatures of habit and know what time of day it is and what gets done at that time - and you had better be there to do it!
In return you get the most loyal companion you could ever wish to own. He will guard you and your home with his life.
There is no other breed for us. Nothing comes close to a Giant.
We own the top dog, the top bitch in the breed, Grace - in pertnership with Rita Thomas - and now the Crufts Supreme Champion.
It's our dream come true."

---

Follow this link to see the story and photos of Philip's fantastic win at Crufts - Philip the Worldbeating Giant
Read more about Kevin and Sandie and about how they also breed Miniature Schnauzers at Kedsan

Interested in Giant Schnauzers? Here are some more pages on Giants -
A Full Description of the Giant Schnauzer
Top Ten Tips for Finding Good Giant Schnauzer Breeders
Schnauzers - Hypoallergenic and Non Shedding