URGENT! Have you seen Jax - East Sussex?
by Sharon Winn
(East Sussex)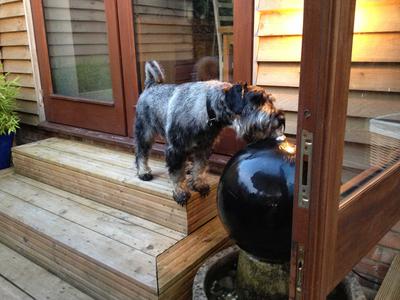 24/10/13
Hi, Unfortunately this is not a very happy story, but we are hoping for a happy outcome.

Jax is a nearly 2 year old neutered boy, salt and pepper and extremely handsome. He comes from a very loving family and enjoys long walks twice daily.

Unfortunately on 11th Sept 2013 Jax decided that it would be fun to chase some pheasants into the woods, nearby where we live in East Sussex. After combing the area for 10 hours that day, there was no sight of Jax.

Despite searching for him everyday, giving out 1000's of posters and leaflets, contacting dog wardens / rescue homes / kennels / Facebook / Twitter / Thunderclap etc, there has only been one sighting of him, near to where we live, (8 days after he disappeared) and unfortunately the gentleman was in a hurry therefore he did not pick Jax up, and by the time we got to where he was sighted, he was no longer there.

We are desperate to find our boy and hope by telling you our story, you can look out for him.

He is micro chipped.

We believe someone may have taken him home and decided to keep him.

Maybe your neighbour has a new dog ? but it not walking it, anything suspicious. Please let me know. Thank you
Sharon

NOTE FROM LINDA AND MAX: What a gorgeous boy, we really hope you find him. To all our readers in the area, please keep your eyes peeled for Jax - even if he is with people, it may not be his true owners.
Sharon, can you post an email address or Facebook page where people can contact you?