Toby Home At Last
by Dolly
(Satellite Beach, FL)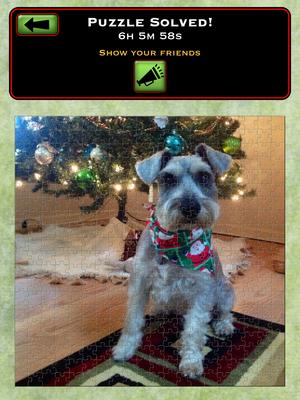 Toby's 1st Christmas in his furever home.
I was found wandering the streets of Tampa. Now Tampa is a great place, but when you're out on your own, it can be frightening. I was picked up by animal control in a very sorry state, skin infection, rotten teeth and all matted.
No one claimed me and I was not in an adoptable best, so things looked pretty gloomy.
But then Schnauzer Love Rescue heard about me and rescued me. They took me to the vet and got me on the mend. Then I was placed in a great foster home.
My foster home was all the way across the state, so I got a plane ride in a private plane by a rescue volunteer. That was exciting!
My Foster Mom and her daughter were so good to me. They gave me good food, kind words and loving attention.
Little did I know my new Mom and Dad were looking for a rescue schnauzer. Mom said when she saw my picture and read about me it was love at first sight. She had her heart set on me. She had already started the adoption process with SLR, so she let my Foster Mom she was interested in me. Mom said the process was thorough and seemed to take forever.
Now I'm in my furever home and do I have it good! I get two great meals a day, though Mom does have me on a diet. She or Dad takes me for two long walks each day, and some days we play ball in the yard.
Mom throws it, I chase it and then Mom fetches it. Shh, don' t spread it around but Mom and Dad even gave me a light blanket to sleep on the couch because I don't like the dog bed.
Life is good!

NOTE FROM MAX:
Great story, buddy, looks like you have landed on your paws! All the very best to you for the future.