Get your FREE Review Copy of  The Schnauzer Handbook NOW!
Getting a dog is one of the most important decisions you'll ever make. If you already own a Schnauzer or are thinking of getting one of these striking dogs, then The Schnauzer Handbook is the only book you'll ever need. Covering Miniature, Standard & Giant Schnauzers, this unique 263-page manual is the most comprehensive book ever written about the three breeds.
This week you can get a FREE copy of the leading book on all three types of Schnauzers written by canine author and journalist Linda Whitwam.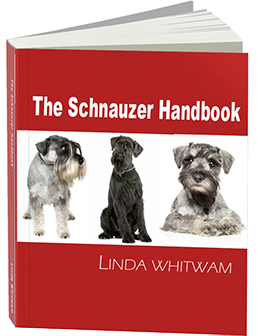 Just send us an email to
The Canine Handbooks
to confirm you'll leave a review on Amazon - anything from a sentence or more - and we'll send you the secret link to the free book. You can read the whole thing or just dip in and out. Let us know which country you live in, so we can look out for the review.
If you haven't got an Amazon account, you can set one up in a couple of minutes, all you need is an email address.
The Schnauzer Handbook also makes the perfect gift for Schnauzer lovers and owners. The printed book is currently on sale at great prices.
The book sells for $14.36 Amazon.com Schnauzer Handbook (List Price $15.95 - Kindle version $11.58).
In the UK The Schnauzer Handbook list price is £15.75, but you can get a copy for as little as £9.18, Kindle version £6.90.
Happy reading!