Rebel & Benji after grooming.. Easter Saturday
by Michele
(Dorset)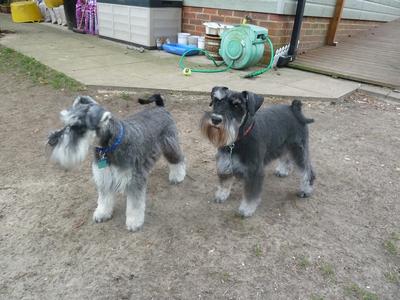 We look professionally done..
Both Rebel & Benji have given me permission & thought it was time.. again.. to post these photos as it was Easter Saturday when the time came for them to let me give them their grooming session. Benji had his coat stripped out, and it took me over two hours.. Rebel was clipped, which he prefers, but he still retains his wire coat... I also clean their teeth, but with doggy toothpaste.. One must never clean their teeth with toothpaste we use as it makes them foam at the mouth..
Anyway Rebel & Benji hope you like these photos....
Benji & Rebel say there's no grass grows either because of the pine trees.. five of them in the garden..

NOTE FROM LINDA AND MAX: Your boys look very smart, as always, Michele. They are a credit to your hand stripping and grooming skills.