REBEL 1 and RINGO ( now no longer with me )
by Michele
(Dorset)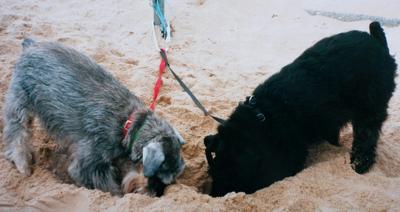 We are digging our way to Australia !!!
These are the very first Mini-Schnauzers I had... but I'm sure you've seen all my photos I've posted here..on this Wonderful Site...
This photo is of my two boys ( no longer here ).. Rebel 1 and Ringo having a lot of fun on our beach, digging their way to Australia... !! This was one of the many walks that gave them pleasure and they also used to paddle in the sea.. during the warm weather of course....
For the lady that worries about her Schnauzer changing colour.. my pepper & salt boy, Rebel 1 also had light brown hairs growing in between his grey & white.. this is normal I think, as peppercorns are of the colour black & brown.. see my photo above...