Rambo and his friend.. Phantom !!
by Michele
(Dorset)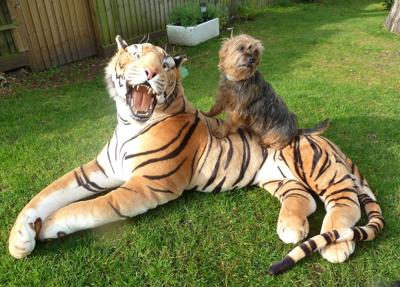 Look over there .. Phantom..
I know this little dog is not a Schnauzer.. but Linda and Max said to post these 2 photos..as they made them laugh.
Phantom is the Tiger and Rambo, my Australian Silky, has decided that he is ready to tackle him.. after all his role is to protect me from " Big Cats " and this is what he is doing..! As you see they are best of friends.
I will try to get a photo of Rebel, my Miniature Schnuazer, doing the same and post it...