Ralph the Teessider
by Mrs llewellyn
(Stockton - England)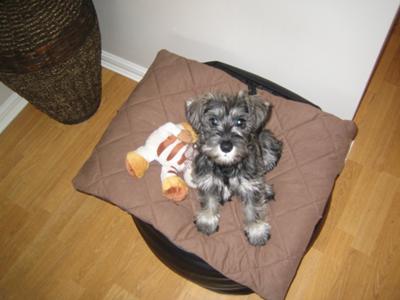 Ralph the Schnauzer at 3 months old
This is Ralph growing up, he's 3 months old here, full of beans and whatever is not stuck down will find it's way into his mouth......

Schnauzers are just so gorgeous and playful, Had a lovely walk tonight only to find myself finger sweeping out a cherry lip (sweetie) from his mouth...some kids had drop a few on the pavement!!

Ralph doesn't miss a trick! He was like a hoover - just sucked it up as he passed it. Need eyes in the back of your head with this one. He is one cheeky little monkey.