PLEASE HELP....HAVE YOU SEEN SCRUFFY?
by Louise Snyder
(Chicago, IL USA)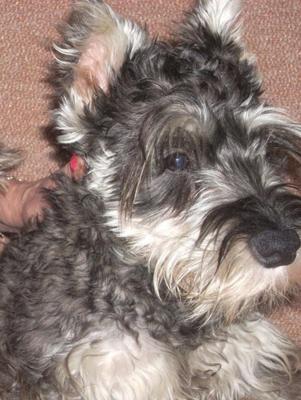 My Beautiful Baby Scruffy
I purchased Scruffy my miniature schnauzer about 2 1/2 years ago after what was a very tramatic time in life. Lost both my father and sister within a year, then lost my job and my current dog to old age. Anyway, upon receiving Scruffy my life changed for the better. He turned out to be my little ray of sunshine and brought love and laughter back into my life.

But..the world has changed so much that your pets aren't even safe. My Scruffy was stolen from the yard (and somehow escaped from them) only to now be on the loose. Gone for 3 months, and knowing how Schnauzer lovers love their dog(s), you can imagine what I am going through. I just wanted to alert people out there who think that "this won't happen to me", it could.

Now, I am heartbroken...feeling even worse than before. I spend days so depressed I don't know if I can function. Nights I cry myself to sleep and mornings aren't any better knowing he is not here with me. He is the first thing I think about upon arising. Anyway, please, please, please never leave your pet alone, even in your yard. Evil lurks out there!

I still have hope to find him but it is extremely difficult on the emotions...He IS my ray of sunshine, he changed my life with his own happiness, I want and need him back in my life.

Hope I didn't depress anyone with this (I am depressed enough for all of us), but that is my sad tale. I miss him dearly and hope beyond hope to find him. I will not give up, I can't, he IS my baby.

Thank you for the ear.