Oscar from Missouri
by Sondra
(Florissant,Missouri)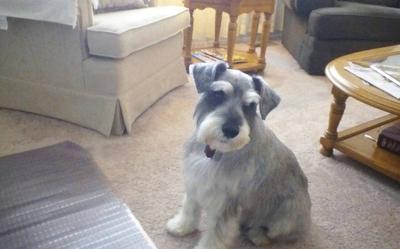 This is Oscar the is so handsome. He came to us 10 years ago as a pup. He's been such a wonderful dog, can't imagine why someone who just throw him away.

NOTE FROM LINDA AND MAX:
Yes, he sure is! He looks a bit like Max and certainly looks like he has landed on his paws - in the lap of luxury with you, lucky boy.
Join in and write your own page! It's easy to do. How? Simply click here to return to Your Schnauzer Photos.