My Three Boys...
by Michele
(Dorset)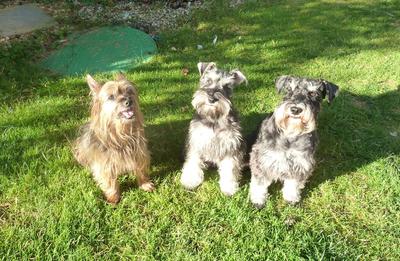 We are all inseparable...
Hi ... At last my Australian Silky.. Rambo has decided that if he cannot beat Benji he might as well Join in so now he's accepted him and actually lets Benji play with him.. but if Benji gets too playful he does tell him off, not that it makes any difference to Benji, as he just goes back for more.. !! he's now 5 months and ever so good....

NOTE FROM LINDA AND MAX:
We love the photos, Michele, you really do take some good pictures.
Max can hardly believe how Benji has grown - he is such a cute looking dog!
We love his cheeky expression.
Join in and write your own page! It's easy to do. How? Simply click here to return to Your Schnauzer Photos.