My " PINK " Sandpit..
by Michele
(Dorset)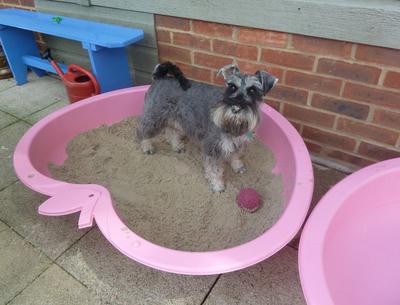 Colour doesn't matter..
Benji here with some photos .. !! My mummy bought us paddling pools as the old Blue ones were rather scruffy.. but she couldn't get Blue ones ( you see they come in pairs .. one for play-sand and one for water ) so she had to have the PINK ones, but I don't mind as it's still fun.. I dig in there now instead of digging holes in mummy's garden, and my paws don't get dirty..Rambo loves paddling, and he's in the Blue one, until mummy filled the pink one, which she has now… but Rebel would rather chill out in the shade.. !! he's lazy !!..
Love from Benji and my 2 best pals.. Rebel & Rambo..xxx

NOTE FROM LINDA AND MAX:
NICE!! Love the pink!