My 8 week old puppy.. BENJI..
by Michele
(Dorset)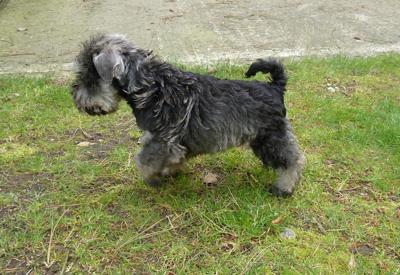 I'm a happy puppy...
Well I now have Benji, and he is so good.. he is practically toilet trained, but having Rebel and Rambo he is learning from them.. He arrived at my home from Essex with his breeder last Thursday 14 June. A 3 hour journey for her.
He has settled in very well and with my black and silver boy Rebel, they play together. Rambo puts him in his place when he gets too rough and growls at him. Benji is learning to respect Rambo but Benji sometimes tries his luck ... only to be growled at, but he'll learn!
He has a lovely thick coat and already I've started using a stripping knife .. very very gently... here are three photos and one of them is with Rebel.