Mini Schnauzer Story -
A Narrow Escape
Here's a nice Mini Schnauzer story with a happy ending -
An inquisitive Miniature Schnauzer puppy called Skampy proved he really is a scamp by nature by getting stuck underneath wooden garden decking.
The five-month-old Schnauzer puppy got into trouble at his new home in Pangbourne, near Reading in Berkshire, England, forcing his worried owners to call the fire brigade.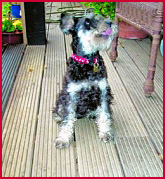 Judy Boehm, 60, a part time company secretary, said they had only had Skampy for two weeks when he got trapped in the six inch gap under the decking on Saturday night!
"He went in head first, then there wasn't enough room for him to turn around and come out. I was shining my torch to try and show him the way out. He thought it was great fun, he was just digging away under there."
Mrs Boehm's husband Ernest was unable to lift the decking as he had an injured shoulder, so local firefighters came to the couple's aid around 10pm.
Mrs Boehm said: "The fire brigade were fantastic - they were here in 10 minutes. They took the front of the decking off and then got him out. They were lovely lads. Everyone had a cuddle and he was very grateful. I'd like to say a big thank you to them because they really were wonderful and they said it was no trouble."
Black and silver Skampy is the couple's third dog, but the first at their current home. Mrs Boehm said: "He's a lovely little creature. He's a very good companion.
"Everybody is his friend - he loves people. He's so fun and we just think he's the sweetest dog."