Mimi - owner was going to hit her over the head with a brick
by Christine
(thornton cleveleys, Lancs, UK)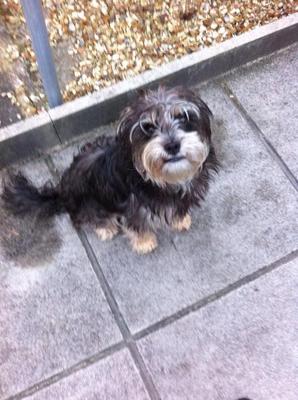 Mimi
This is Mimi. She is our baby.
We rescued her whilst on a working holiday in Spain last year. She was being ill treated by her owner and their small kids, the owner was going to hit her over the head with a brick :(
we took her home without question but she was very timid at first. after a week or so she became used to us and no longer feared we was going to hit her but it took a while when we put on her lead she would cower. it was a shame.
we arranged injections at the spanish vet including rabies as we wanted to return back to the Uk in October. the vet assured us that Mimi was ok to travel to the UK.
However on arrival at the port Mimi was refused entry to the ferry as the vet had done her microchip and rabies injection the wrong way around. we was devastated!
after much negotiation and lots of tears the ferry customs decided Mimi could travel the following day but was to be taken into quarantine for 3 weeks on arrival to the UK.
we then had to pay for hotel accomodation for the night 50 euro.
on arrival in the UK Mimi was taken to Chesterfield where she stayed in quarantine for 3 long weeks.
After the 3 weeks we went to pick her up to take her home which was a 7 hour round trip, the kennel charges were £700!!!
Despite the huge expense we could never have left Mimi in Spain.
Mimi repays her gratitude to us with licks and kisses every day.
We love her loads and hope to have a doggy friend for her soon to keep her company when we have to go out

NOTE FROM LINDA AND MAX:
Hi Christine, you are truly outstanding! How can people be so cruel to their dogs? It is thanks to people like you that some dogs are lucky enough to have a second lease of life.
We admire your dedication to Mimi, thank you for sharing your story.
PS She looks happy to have found you!