Meet Charlie Farley
by Linda
(Lincoln uk )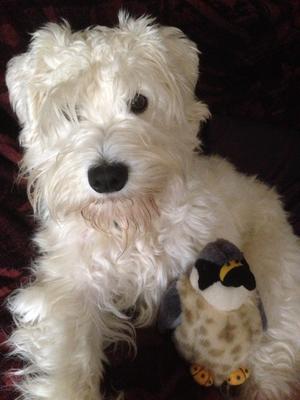 Charlie will be 1 year old in a couple of days and he's the most cutest loving cuddly dog I have ever owned. My parents have had schnauzers for several years so we decided to buy one as a companion to our 10 yr old wheaten terrier bitch and they are now bosom buddies !!

NOTE FROM LINDA AND MAX:
What a beauty Charlie is. We love the top photo of him, we notice he has a lovely black nose and eyes, which not all whites have -very handsome.
Join in and write your own page! It's easy to do. How? Simply click here to return to Your Schnauzer Photos.