Max the Sausage Dog
by Phil
(Singapore)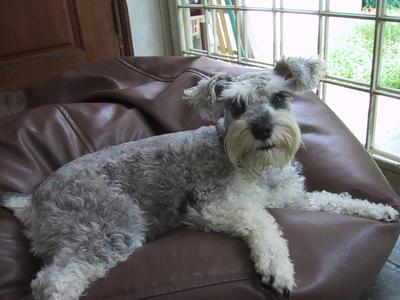 Max on his bean bag
Max was in reality a great Miniature Schnauzer but he got the nickname the "Sausage Dog". Singapore is very hot - about 90F on the average day - so we have a large marble-top table in the kitchen to keep foods cool during preparation.

From the day Max came home at eight weeks he was intrigued by the smells that came off the marble table. By the time he was six months old he had taught himself to stand on his hind legs to get nearer the smells but he still couldn't reach them.

One year old and he could just get his paws on the edge of the table. One day Catherine grilled me two long Bratwurst, she put them on wooden skewers to keep them straight. After cooking they were left on the marble table to cool while we went to market.

When we got home there was only one sausage but Max was sleeping on his bean bag. We blamed the neighbours cat or even the mynah birds as the stick the sausage was on was also missing.

Two days later the truth emerged. Catherine moved Max's bean bag to mop the floor and there craftily buried underneath it was the sausage stick! Those who don't know dogs say they can't think; well he must have felt around with his paw to steal the sausage and then had the sense to bury the evidence under his bean bag.
Of course when after two days he was shown the stick he looked at us as if to say "I don't know nothing!"

NOTE FROM LINDA AND MAX: Lovely story, Phil. Max sounds like a real character, just like our Max.
PS Your Max looked so sweet and innocent in the photo, like butter wouldn't melt in his mouth - never mind sausages!