Hi its Charlie Farley again
by Linda
(Lincoln)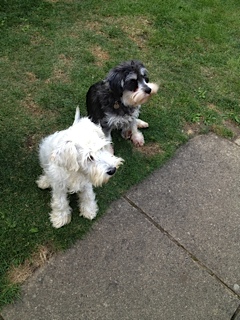 Hi again my mum is having problems attaching the picture of me and my girlfriend Izzy together so here it is. I hope all you schnauzers out there have been enjoying the lovely weather , I was outside wrecking my mums garden I demolished 3 solar lights dug a hole and climbed on the rabbits hutch !!!

NOTE FROM MAX:
Hi Charlie, Well done for getting the photos uploaded, there's no end to a Schnauzer's talents. Nice one with the solar lights,
Schnauzerley wishes,
Max
PS Izzy is quite a looker!
Join in and write your own page! It's easy to do. How? Simply click here to return to Your Schnauzer Photos.