Happy Easter to you all.. Linda & Max especially..
by Michele
(Dorset)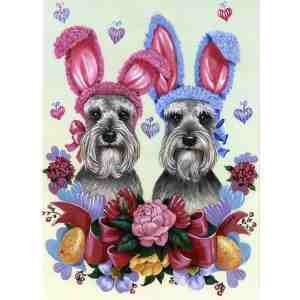 With Schnauzerly Love to all..
This is an Easter Schnauzer Card I designed on my Computer.. but not my dogs.. just images of 2 pepper & salt ones.. Well I can't imagine trying to add " Bunny Ears " to Rambo and Rebel !!
Happy Easter to all my Schnauzer Friends and their doggies, too.
With Schnauzerly Love..
Rambo & Rebel and of course their owner.. !!