Benji & Rebel with their Cuddle Cushion
by Michele
(Dorset)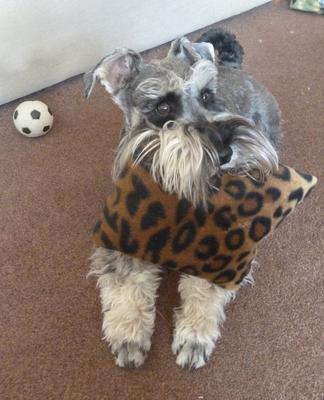 I promise I won't eat it..
Hi everyone.. it's Benji here again.. I wanted you all to see the lovely " Cuddle Cushion " that Spiffy sent to us and Betsy made them for us. Rambo has one too, but he wouldn't pose for his photo.. I sent Spiffy my favourite Zebra, so if it's Ok I'll post the photo of Spiffy with Mr. Zebra that her mummy, Betsy sent me today..
Betsy and Spiffy live in Atlanta and we met on this site..
Love.. Benji & Rebel xx


What a Brave boy Buddy was .. I hate Pitbulls, which are illegal here in the UK and we have them here too, but they have to be licensed and registered…I hope both Maddie and Buddy are OK.. Will it be a child next time.. I wonder..