BENJI " On Guard.. " !!
by Michele
(Dorset)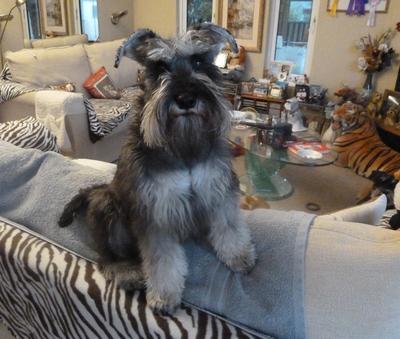 My Look-Out post !!
Benji has now decided that this is his viewing area, so he can see all that's going on outside from a high point in my lounge..on the back cushion of the sofa.. so as for the towel .. he came in the other day with very wet paws and immediately was up there, before I had chance to wipe them, dry... luckily the paw marks were easily disposed of... and no harm done..
The 3 little Xmas Sox, all named, in the background, in the middle photo, are from Betsy, to Rambo, Rebel & Benji, .. she is such a lovely lady and we've sent presents every year, since I joined this site..
As I pass these sox, I pop in a treat, also when friends call they also add a treat in each sock...

NOTE FROM LINDA AND MAX:
Benji certainly looks like he has made himself right at home and if your other 2 aren't on their guard, Benji will soon be top dog!