Basking in the Sun
by Andi
(Florida, USA)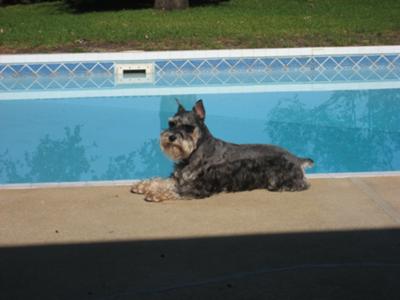 Harley the Sunbathing Schnauzer
This is Harley, from Destin, Florida. He is a five year old Miniature Schnauzer.
One of his favorite pastimes is sitting outside on a warm day, enjoying the sunshine and sniffing all the different smells the wind carries past his nose. He also loves to chase the squirrels and birds out of his yard.
If we get in the pool to swim, he will not hesitate to jump right in with us. He wants to do everything we do and won't let a little water get in his way.
He loves to "race" to the other end of the pool to see who can get to his toy the fastest.
He brings so much joy to our family (and he knows it, too)!