6 Week Old Schnoodle
by Jenna
(Los Cabos, Mexico)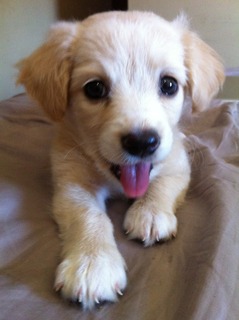 We recently rescued a 6 week old puppy. We live in Mexico and a woman at the store didn't understand how to raise puppies and was giving the puppy away (and two others).
We watched two puppies go to possibly unfit families before we could approach her and were concerned about the last puppy finding a good home so we adopted her. We were told that she was half schnauzer and half french poodle, however she looks different than other schnoodle puppies (i.e. her hair is short and not curly, her tail is long, etc). She is definitely a miniature.

We have been feeding her Pedigree Puppy Milk, which the box says to feed up until 2 months. She is about 2 pounds. We are feeding her the amount the box instructs but she always acts starving afterwards and freaks out if she smells food, as if we are not feeding her enough.

Also, she is having a tough time learning how to potty train. Sometimes shes good and goes on the puppy pad, sometimes she will go around the house. Any tips would be helpful!

We are taking her to the vet this week (again we live in Mexico and this is the soonest we can), but wanted to get some answers before if possible!

We love her to pieces and are glad that she needed a good home!

Thank you Max!!
Join in and write your own page! It's easy to do. How? Simply click here to return to Your Schnauzer Photos.